Read the newsletter
Infrarotschweißen neu gedacht / Infrared welding redesigned
Infrarotschweißen neu gedacht / Infrared welding redesigned
Infrarotschweißen neu gedacht
Als kontaktlos arbeitendes Verfahren bietet das Infrarotschweißen gegenüber dem Heizelementschweißen unbestritten Vorteile. So ermöglicht die kontaktlose Wärmeübertragung die Bearbeitung von Werkstoffen, die sonst zum Anhaften neigen. Besonders bei der Verarbeitung von fasergefüllten Werkstoffen bietet sich das Verfahren an. Die am Markt verbreiteten Prinzipien wie Quarzglas- sowie Metallfolienemitter stoßen spätestens bei der Bearbeitung von dreidimensionalen Bauteilen an ihre Grenzen – "Da muss doch was zu machen sein", dachte man sich bei der Firma PolyMerge GmbH, einem Hersteller von Maschinen zum Kunststoffschweißen im oberbayerischen Geretsried.
Auf der Entwicklungsagenda standen Eigenschaften wie Leistungsstärke, Langlebigkeit und die freie geometrische Gestaltbarkeit. Um diese Zielsetzungen zu erreichen, wurde ein 3D Druckverfahren zum Einsatz gebracht und modifiziert. Dieses ermöglicht die Herstellung eines keramischen Emitters in annähernd beliebiger Geometrie. Nun stellt Keramik naturgemäß keinen guten elektrischen Leiter dar. Diese notwendige Eigenschaft konnte schlussendlich durch eine spezielle Dotierung erreicht werden. Anders als metallische Werkstoffe hält das Material sehr hohen Temperaturen stand, ohne am Luftsauerstoff zu oxidieren und erreicht so enorme Standzeiten. Die Betriebstemperatur liegt deutlich oberhalb der üblichen 800°C und sorgt für eine deutliche Leistungssteigerung gegenüber der einem Metallfolienemitter. In der Theorie bedeutet eine Verdoppelung der Temperatur immerhin die 16-fache optische Leistungsabgabe. Diese Leistungsreserve kann eingesetzt werden, um die Zykluszeit zu verringern. Sie ermöglicht aber auch einen Aufheizprozess bei deutlich vergrößerten Abständen zwischen Bauteiloberfläche und Emitter. Dieser Abstand wiederum trägt dazu bei, eine konstante Temperatur auch bei der Verarbeitung von toleranzbehafteten Bauteilen zu gewährleisten. Ein weiterer positiver Nebeneffekt des neuartigen Emitter-Materials ist seine Steifigkeit.
Diese ermöglicht es, den Strahler mit nur wenigen Anbindungspunkten frei im Raum zu positionieren. Hierdurch wird es möglich den Strahler so zu führen, dass sein emittiertes Licht den oberen und den unteren Fügepartner erreicht. So kann auf den sonst üblichen Einsatz von zwei Emittern pro Vorrichtung, sowie auf eine massive Trägerplatte verzichtet werden. Dabei wird Geld und Energie gespart, durch die fehlende Trägerplatte muss eine solche nicht energieintensiv mit erhitzt werden. Durch die hierdurch reduzierte Masse wird zeitgleich die Umstellzeit deutlich verkürzt.
Das Ergebnis ist nicht weniger als eine kleine Revolution. So wird das Verfahren immer dann attraktiv, wenn großformatige dreidimensionale Bauteile gefügt werden sollen. Die Einsatzfelder umfassen dabei Anwendungen im Automotive-Bereich des Interieurs, des Exterieurs sowie des Antriebsstranges. Neben den positiven prozessseitigen Eigenschaften bietet der Einsatz eines 3D Druckverfahrens einen weiteren Vorteil: Sollte der unwahrscheinliche Fall eines defekten Emitters eintreten, ist ein maßgenauer Ersatz kurzfristig verfügbar.
Haben wir Ihr Interesse geweckt?
Besuchen Sie uns auf unserer Homepage unter www.polymerge.de
PolyMerge GmbH
Wallensteinstraße 7
82538 Geretsried
Tel: +49 8171 3447 0
Fax: +49 8171 3447 77
Email: info@polymerge.de
Web: www.polymerge.de
Infrared welding redesigned
As a contactless process, infrared welding offers undoubted advantages over heated tool welding. The contactless heat transfer enables the processing of materials that otherwise tend to stick. The method is particularly useful when processing fiber-filled materials. The principles common on the market, such as quartz glass and metal foil emitters, reach their limits when processing three-dimensional components - "There must be something to be done," they thought at PolyMerge GmbH, a manufacturer of machines for plastic welding in Geretsried in Upper Bavaria. The development agenda included properties such as high performance, durability and free geometric design. In order to achieve these objectives, a 3D printing process was used and modified. This enables the production of a ceramic emitter in almost any desired geometry. Of course, ceramic is not a good electrical conductor. This necessary property could ultimately be achieved through a special doping. In contrast to metallic materials, the material can withstand very high temperatures without oxidizing in the oxygen in the air and thus has an enormous service life. The operating temperature is well above the usual 800°C and ensures a significant increase in performance compared to a metal foil emitter. In theory, doubling the temperature means 16 times the optical power output. This power reserve may be used to reduce the cycle time. However, it also enables a heating process with significantly increased distances between the component surface and the emitter. This distance in turn helps to ensure a constant temperature even when processing components with tolerances. Another positive side effect of the novel emitter material is its rigidity.
This enables the emitter to be freely positioned in the room with just a few connection points. This makes it possible to guide the emitter in such a way that its emitted light reaches the upper and lower joining partners. The otherwise usual use of two emitters per device and a massive carrier plate can be dispensed with. This saves money and energy; the lack of a carrier plate means that it does not have to be heated in an energy-intensive manner. Due to the reduced mass, the changeover time is also significantly reduced. The result is nothing less than a small revolution. The process is always attractive whenever large-format three-dimensional components are to be joined. The fields of application include applications in the automotive area of the interior, exterior and drive train. In addition to the positive process-side properties, the use of a 3D printing process offers another advantage: In the unlikely event of a defective emitter, a tailor-made replacement is available at short notice.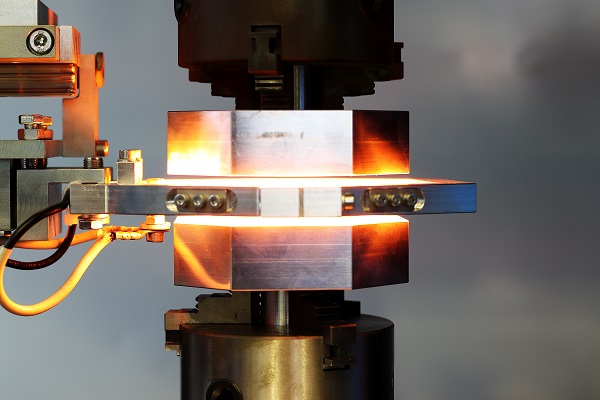 Are you interested in?
So have a look to our website: www.polymerge.de
PolyMerge GmbH
Wallensteinstraße 7
82538 Geretsried
Tel: +49 8171 3447 0
Fax: +49 8171 3447 77
Email: info@polymerge.de
Web: www.polymerge.de